MFA Creative Writing Students Collaborate with Parsons Scholars to Help High Schoolers Apply to College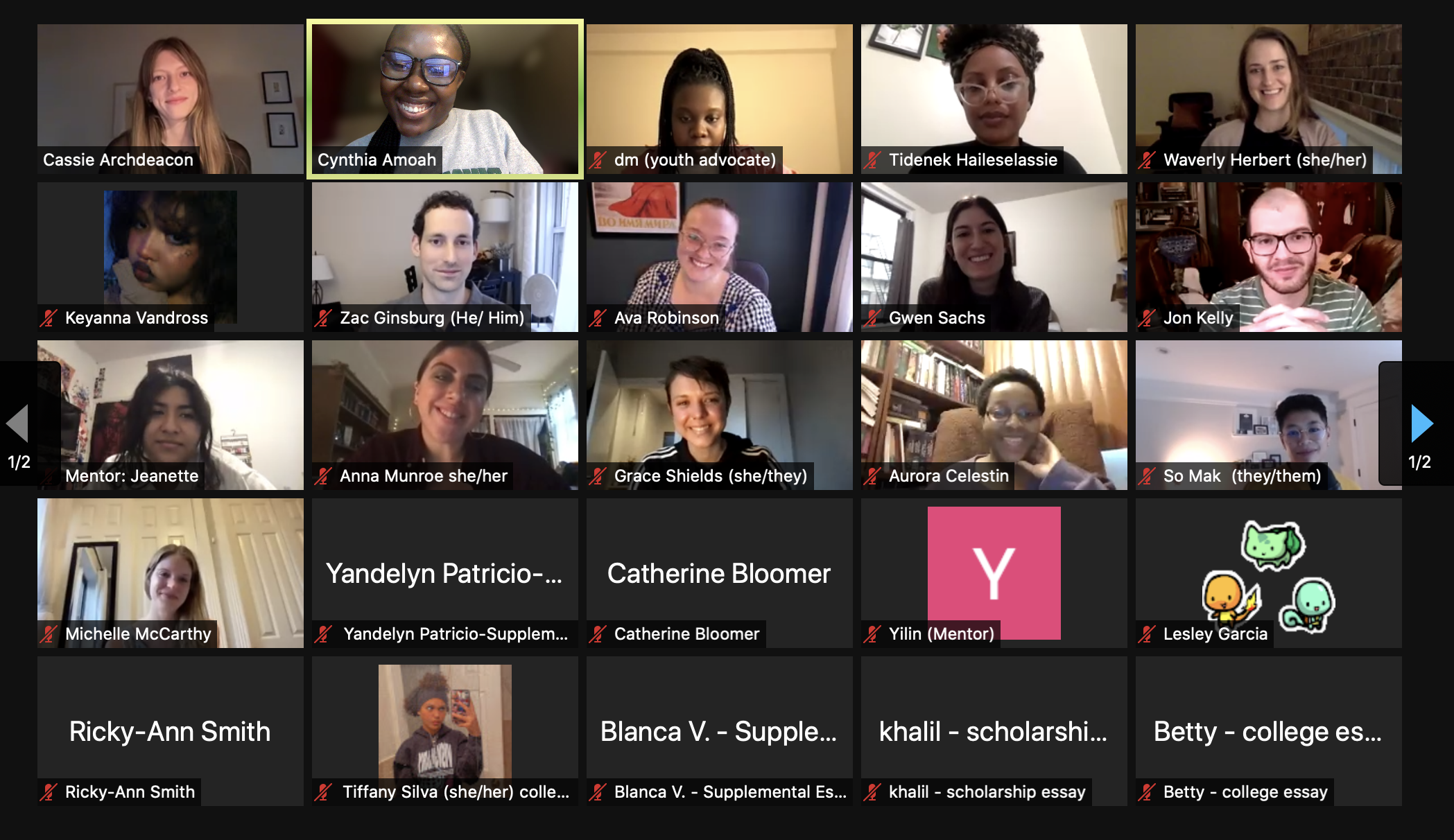 MFA Creative Writing Students Collaborate with Parsons Scholars to Help High Schoolers Apply to College
This fall, fellows from the Schools of Public Engagement WriteOn NYC program offered help to students in the Parsons Scholars Program who were going through the college application process. The fellows — MFA creative writing students who have been trained to work with high school students — worked one-on-one with 24 senior Parsons Scholars, helping them write their personal essays and artist statements and their showing how to share their personal stories in a way that others will find engaging.
The partnership between WriteOn NYC and Parsons Scholars was a natural one, as both programs share a mission to help high school students from low-income backgrounds explore their creative talents and find connections between their interests and possible careers. The Parsons Scholars Program, housed at Parsons School of Design Strategies (SDS), enables New York students from disadvantaged backgrounds to explore art and design and their potential to aid in self-discovery, promoting social justice and providing education and career opportunities. WriteOn NYC Fellows volunteer at middle and high schools across the city with the goal of making literature more accessible to students, both as readers and writers. These volunteer opportunities help Scholars prepare for careers in teaching and nonprofit work while learning to develop and deliver culturally relevant and responsive reading and writing programs to students.
"What's exciting about how this partnership between WriteOn NYC and Parsons Scholars has come together is that it encapsulates many of the ways The New School is great. The university has a wealth of knowledge, expertise and programs," says Matthew Villarreal, Parsons Scholars Program Director. "I was introduced to WriteOn NYC by SDS Dean Cynthia Lawson Jaramillo, who mentioned to me that there was this program that was doing something somewhat similar to Parsons Scholars. I reached out to the executive director of WriteOn, Helen Schulman, and we started thinking about how we could work together because our programs have a similar mission and a similar demographic that we serve.
"We both try to help young people achieve their dreams and help underprivileged children as best we can," Schulman says. "We wanted to find a way to join forces, so we reached out to current and past fellows and asked if they were interested in working with these students."
In previous years, the Parsons Scholars program provided SAT support to students as they prepared to apply to colleges and universities. However, many colleges and universities have stopped requiring SAT scores, which makes the rest of the application, including the personal essay, even more important. "Since many schools do not require SAT scores, we were trying to figure out the best way to support our students in terms of college access and preparation. We thought there might be other people who could help our students prepare their essay in a more intimate way instead of trying to provide writing lessons for a whole group. If we could make the groups as small as possible, ideally one-on-one, we could provide individualized assessments and support to our researchers. This is where the real troubleshooting happens, in the details," says Villarreal.
The ability to get one-on-one instruction on creating an engaging personal narrative from someone with a passion and knowledge of writing was an invaluable resource for the candidates. "Enrolling in university is stressful and they don't have private tutors or other professionals to help them. They don't take preparatory courses in this area, so it's extremely helpful for them," Schulman says. "We really needed people who could help these kids get into the schools they were applying for, so we sent MFA students with really good grammar skills who are kind, smart, fun, and hardworking. We also always look for diversity in our colleagues. I read the correspondence between Matthew's students and my students and it's great. I'm not aware of the actual testing, but I see the back and forth as they work together and it's so lively and warm and kind. My students, every interaction they have with these kids, they love it. It's a great joint process.
Villarreal and Schulman plan to continue this partnership in the spring semester, when they will work with high school students. Since these students will be at an earlier stage in the application process, these sessions will be more lesson-oriented, focusing on helping students generate and flesh out ideas, brainstorm, and make the more attractive writing. "I am excited to see where this collaboration can lead and how it can only go from strength to strength in the future. Art and design, writing and communication are two sides of the same coin, and it is very important to weave them together", explains Villarreal.
Schulman is excited to continue this program and looks forward to finding ways to collaborate with similar programs across the university. "Around the university there are all these pockets of people doing entrepreneurship programs for high school students, but we're not in communication with each other," Schulman says. "If we work together, maybe we can get more academic support and strengthen the programs and our outreach in this city we love."