The Everyday Hero Manifesto: Robin Sharma Talks About His Books, Writing Process, Life & More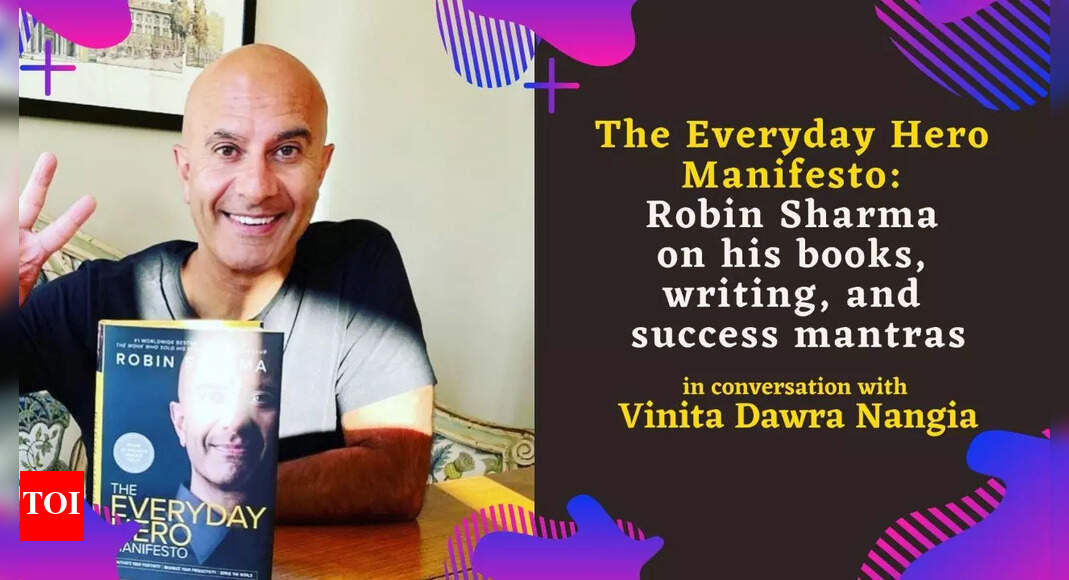 Considered one of the world's leading experts and speakers on leadership and personal mastery, Robin Sharma is a name synonymous with achievement, spirituality and self-discovery. His international bestsellers such as "The 5AM Club" and "The Monk Who Sold His Ferrari" have sold millions of copies in over ninety-two languages, making him one of the most read to the world.
During a recent interaction with Vinita Dawra Nangia, author, columnist and editor of Times of India, Robin Sharma talked about her books, her writing process, her life and more.
The conversation started with Vinita asking Robin about her decision to quit her legal career at the age of 25 to pursue stress management and the spirituality and her motivation behind it.

"Yes, I was a litigator and I was very dissatisfied. So I started experimenting with different modalities, tools and techniques because I felt empty in many ways," Robin said when answering Vinita's question. .
"I think success without soul is a very empty victory. Through my experiences and trials, I made a very profound transformation in my life. It led me to self-publish my book, 'The monk who sold his Ferrari', which has become a word of mouth phenomenon and brings me to a new life," he added.
Robin further mentioned that the one thing he was always open and curious to explore was how to find true happiness, productivity, and creativity.
Speaking about his latest book 'The Everyday Hero Manifesto', which he wrote during the pandemic, Robin said, "We all have great gifts. My new book is about how we can reconnect with our most powerful selves." He even revealed that he wrote much of this book on his phone!
In the sequel, Vinita asked Robin why he called his latest book "the most valuable book he's ever written".
To this, Robin said: "I have never worked so hard on a book. I have never given so much to a book. And I have never shared so much of my hopes and my trials in any book as I never wrote."
When Vinita asked Robin about his writing process, in his response Robin emphasized the importance of journaling and his belief that "a lot of artists carry notebooks".
"The very process of writing down ideas is part of the iteration. The process of writing down my ideas every morning and exposing my creativity to the stationery is part of the process," Robin said.
The conversation shifted to Vinita asking Robin if technology is a disruptor or an enabler. Responding to this, he said, "Technology is a phenomenal servant but a tyrannical master."
Additionally, talking about how one can discover one's life purpose, Robin said, "You should just live. Stop playing small and have the courage to follow your instincts. If you fail, see it as a lesson. and an opportunity. And in terms of specific tactics, journaling, praying, meditating are helpful."
Robin also mentioned that for him, success starts with self-love and self-respect. Success, for him, also means health, vitality, longevity, friends and family.
Towards the end of their conversation, Vinita revealed that Robin's theory of just focusing on the things that matter and getting rid of all other distractions "bothered her a bit because it would make it feel like living like a monk rather than participate in all that life has to offer."
To this, Robin said, "A happy life is about focusing on the things that are important rather than pursuing meaningless pursuits. I think unhappy people are those who don't live their potential, who live their lives by responsive way."
"Honoring your potential, doing amazing work, living your values, having a great family life, being with nature – these are things that bring joy," he added.