Writing with a sense of taste | UB today
Few undergraduates can name tasting chocolate and cheese, sniffing spices and taunting a $1 oyster among their assignments this semester. But in Jamie Robertson's College of Arts & Sciences seminar, Writing with a Sense of Taste, these sensory activities are fundamental in the learning process of thinking and writing.
With an emphasis on critical reading, research, and expression through print and digital media, Robertson's seminar students sample everything, long Los Angeles Times the reviews of food critic Jonathan Gold to the avant-garde and imaginative prose of revered food writer MFK Fisher ​​Anthony Bourdain's Emmy-winning TV show Unknown parts potato chips, for an exercise in association of taste and memory. Throughout the semester, students also complete journal assignments, such as visiting a cafe and recording observations using the five senses, writing a review of their dinner as if they were a food critic, and responding to anecdotes and Fisher's witticisms in his classic work. Consider the oyster (1941). These explorations of genre and style culminate in a final multimedia presentation on a food-related topic chosen by the student, with the option of creating a video, website, podcast, or a good old-fashioned powerpoint presentation. , adapted to a critical spirit. spectators.
Although the oyster assignment was not an option this term due to the continued effect of the pandemic on local restaurants, Robertson is happy to teach the seminar in person again, after COVID forced the online course in March 2020. "I felt, even before COVID, that we needed more human connectivity," says Robertson, who also teaches a literature and law seminar. "Of course, eating has its own politics, but food is a way to connect people, and writing is also a way to connect people."
This idea resonated with several of her students, including Emma Kim (CAS'24), who says the topic was a welcome departure from her STEM course. She particularly enjoyed the restaurant review assignment: "Writing the review was different from what I had imagined," she says. "It was fun trying to come up with specific words for the reader to have the same experiences as when I was sitting in the restaurant." Kim, however, tackled a more serious topic for his final video project, which weighs the pros and cons, including the environmental impact, of conveyor belt sushi restaurants around the world.
International relations specialist Jelena Garcevic (Pardee'24) said the seminar was "a really good way to practice my creative writing" and an opportunity over the Thanksgiving holiday to bond with her family and neighbors, who live there. helped film her final paella project (their version had fish, shrimp, and turkey). One of her favorite tasks in class was a sensory exercise that involved smelling an unidentified spice and writing about a memory associated with the smell. "I smelled the clove," says Garcevic, who was born in Vienna, Austria, "and wrote about how it reminded me of a childhood memory at a Christmas market."
While sensory activities were understandably popular, students diverged in their love—or distaste—for Fisher and Bourdain's distinctive voices. Coming into the class, most of them had never heard of Fisher, and "only a few knew Anthony Bourdain," Robertson says. "And he's interesting, because they really like him, or really don't. But, what I always ask is, 'Has your mind wandered? Did you stay engaged? And every time they're like, 'Yah.' That's what I mean with his writing: your writing has to compete for people's attention and keep it. You may not like him, but you can learn something from him.
A fan of Bourdain's work, Massimo Siracusano (ENG'24) says the seminar changed his outlook on both food and writing. "People treat food like it's a necessity because everyone needs to eat," Siracusano says, "but I've never really thought about how to describe food as a holistic experience." As an engineering student, he says, he enjoys the expressionistic aspect of reading and writing assignments. "Writing about something I was passionate about definitely helped and motivated me. It was the first time in a long time that I really enjoyed the learning process.
Why did the first-generation Sicilian from New York choose the story of pizza as the subject of his final project? "I was thinking a lot about Italy this semester," he says, "but I also wanted something that had a great overall story. Everyone knows pizza, so I thought it would be a great story to tell how it gained international fame, where it is now the most consumed food in the United States.
Robertson says many students were pleasantly surprised to find that the discipline of food history even existed. Isabel Janeff (Sargent'23) says that when Megan Elias, director of the Metropolitan College's gastronomy program, visited the class, she "and a few other students were on the edge of our seats," as Elias shared the offerings of the program, such as the history of food and culinary science.
A recent transfer student with the intention of studying physical therapy, Janeff was inspired to introduce the world's history of bread after a recent visit with her uncle to Kentucky, who started a sourdough bread business during the pandemic. "It's his part-time job now," she says. "We went to farmers markets to sell bread with him during our visit…he even ordered a fancy oven from Germany." In just 10 slides, Janeff's presentation took readers from the origins of bread in the Middle Eastern Fertile Crescent, through the Wonder Bread era, to the fascination with sourdough spawned by COVID-19 lockdowns. "I haven't had success with that," Janeff says of the sourdough craze. "We had a sourdough starter, but it died out after a month. It takes of them days to do.
For Ronia Peterson (CAS'24), the option of creating a website for her final project was a huge draw. Create all HTML, CSS and background images herself, his project explores what she calls the three main roles of cooking in video games: cooking for health (where cooking is essential to gameplay), cooking for stamina (bonus food), and finally, cooking simulation games. Asked his favorite in the latter category: "Battle Leaders Brigade might be my favorite," Peterson says. "I think it's the most unique in terms of gameplay. The original mom who cooks and Cake Mania also hold a special place in my heart because I played them so much as a kid.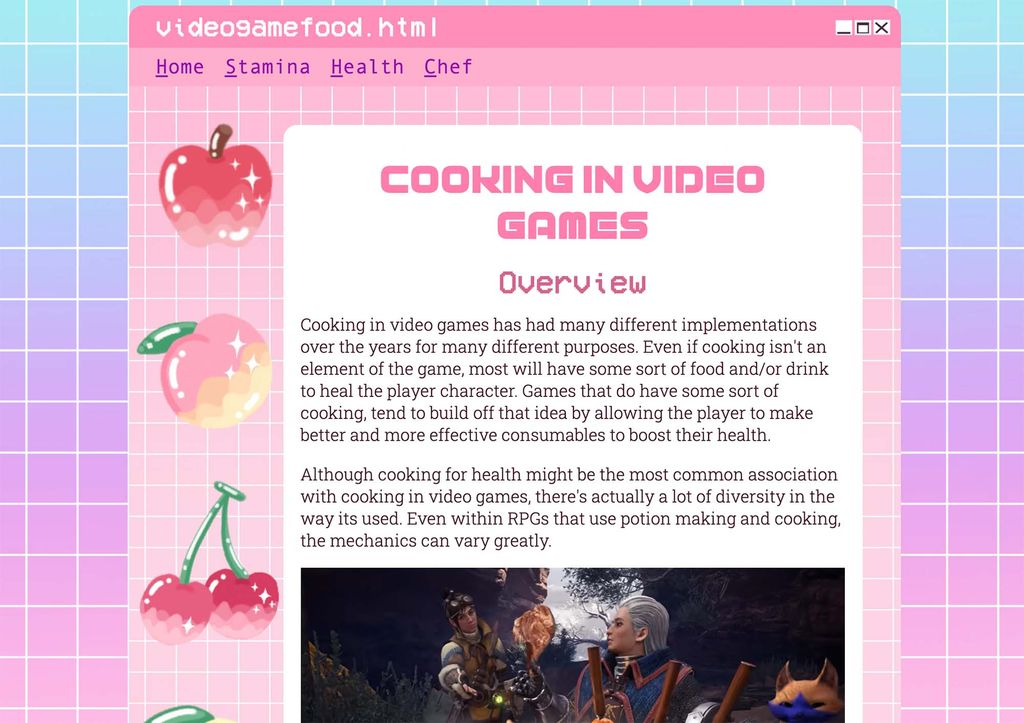 Beyond a new appreciation for food writing, says Peterson, the seminar "helped me think about food in a more positive way." Although initially hesitant to engage in class due to her sometimes difficult relationship with food, she says, "My fears were unfounded and I felt very comfortable… The class definitely empowered me to think of food in terms of what it means to me, rather than just this abstract idea of ​​something I should be ashamed to enjoy or avoid.